Top Ten Reasons for Public Speakers to be Thankful
Can you inspire an audience with a negative message?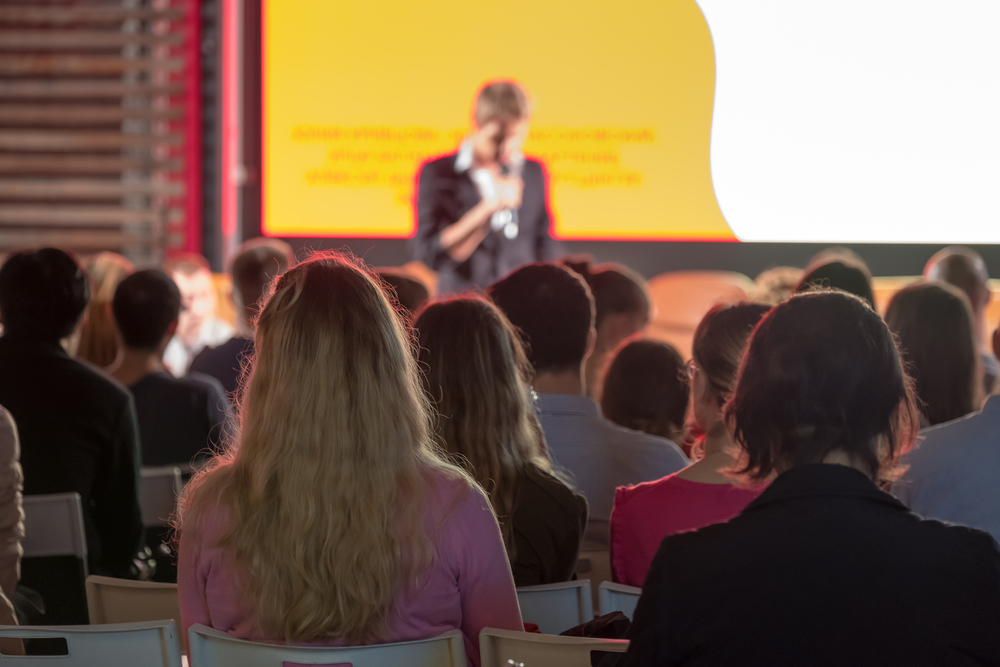 A good introduction is essential to get a speaker off to a good start. The tendency for event hosts to go casual and say a few non-substantive words — or worse, to try to make a joke at the speaker's expense — hurts both the speaker and the meeting. Here's why, and how to give a good intro that will help the speaker — and the event — succeed.
Audiences want several things from a speaker, and some of them right away. First, audiences begin by asking why — why should I pay attention? Why should I care? Why is this going to be important to me? If a speaker is successful, the audience will start asking how — how do I get started? How do I make this my own? That's success for a speaker — moving the audience from why to how.
Second, audiences test speakers for a few things: trust, credibility, likability. On these items, they'll give a speaker a little time, but they make unconscious decisions very quickly, and those unconscious decisions are hard to turn around. So it's better to get it right from the start.
That's where the introduction comes in. An introduction can help answer the why question. And an introduction can help establish credibility, especially, but also trust and likability. The result of a good introduction is to greatly increase the likelihood that the speaker will do well. At least, she's off to a good start.
A good introduction should answer 3 questions
A good introduction should answer 3 questions: why this speaker, on this subject, to this audience? A little humor is permitted, but an introduction should never denigrate the speaker, even in fun. The idea is to build the speaker up in the audience's mind.
As an example, here's a short introduction I provide for my own speaking engagements
Here at XXXXXXX, we live and die by our communications successes and failures. So it is with special excitement that I'm pleased to welcome Dr. Nick Morgan to our annual gathering. Nick is one of America's top communication theorists and coaches. He has coached people to give Congressional testimony, to appear on the Today Show, and to take on the investment community. His latest book, Trust Me: Four Steps to Authenticity and Charisma, was published by Jossey-Bass last year. And he has one of the best blogs on communications.
Have you ever wondered why you can't take your eyes off some charismatic public figures, while others put you immediately to sleep? Nick is going to demystify charisma and storytelling for us today, giving us lots of practical ideas we can immediately put to work when we're back in the office on Monday…
Please join me in welcoming Dr. Nick Morgan!
I've often noted that a celebrity speaker can be mediocre and yet the audience can report that it had a good time. The reason is that the celebrity has already been 'introduced' to the audience — the audience knows the celebrity by advance reputation. The work of a good introduction is to raise the speaker to celebrity status for the purposes of that occasion.
Always end with an applause line for the speaker — "so please join me in welcoming Jane Doe!" — to allow her time to get up on the stage and ready to go. And it's a very good idea to shake the speaker's hand as he or she goes by on the way to the lectern. Shaking another person's hand is grounding and comforting, and will help the speaker get off to a good start.
In terms of body language, the handshake gives the audience the sense that it has met the speaker close up, because a good introducer is the representative of the audience. So when the speaker and introducer shake hands, a bond is formed with everyone.
So don't neglect the introduction.
It's up to the speaker to prepare a good introduction
And speakers, prepare a good one. Don't assume that the folks in charge will have a credible intro ready to go. Make it easy for them and write it yourself. You need the boost so that you can show up in front of that audience with credibility, trust, and likability.
Without a carefully prepared script, here's what can go wrong. At best, the person introducing you, blandly reads your your bio that she's printed from your web site. At worst, you get introduced by an enthusiastic ad-libber, and he starts by saying, "I'm not going to read the intro they sent me." He adds some irrelevant comments about how he met you the evening before over the Spilled Bloody Mary Incident (his fault, not yours). What's supposed to be charming self-deprecating humor is awkward and goes on too long. The rest of the introduction gets lost in the verbal shuffle, and the host gets key facts wrong, stumbling over the sentence structure and some unfamiliar words. He leaves out mention of your book, and ends with another half-hearted attempt at humor. You walk on stage to the sound of a lot of single hands clapping.
If you want to avoid this sort of disastrous incident and be guaranteed to get your speech off to the best possible start every time, create a DVD intro that showcases you and your history with some drama and excitement. The video will put you in the best possible light and get the audience keyed up to see you. You can do this in a carefully scripted 3-minute video, and the cost can be quite reasonable. In any case you should mentally amortize the cost over all the introductions that won't be botched from here on.
What should go into those 3 minutes? Answer the question why? Why are you cool, why is your speech important, why should the audience care. Give a few salient details about your accomplishments, and end with the music amped up and the cheers already rolling in. Have the last words of the voice over be, "Ladies and Gentlemen, please welcome (You)!" and the applause will follow naturally. The great thing about video (with a compelling soundtrack) is that it can touch the emotions in a way that's much harder for your host to do, statistically speaking.
It's all about quality control. Create your own intro video and you'll never have to suffer a botched intro again. Get the intro right, and the speech is half done.